Implants for Fracture Surgery
There are two types of screws = Machine screws & Wood screws.
Bone screws are machine screws.
A wood screw is inserted into a small pilot hole. The screw threads compress the wood, which is less stiff than the screw, resulting in an elastic force.

A machine screw is inserted into a pre-drilled & pre-tapped hole. The screw itself deforms plastically when inserted into metal.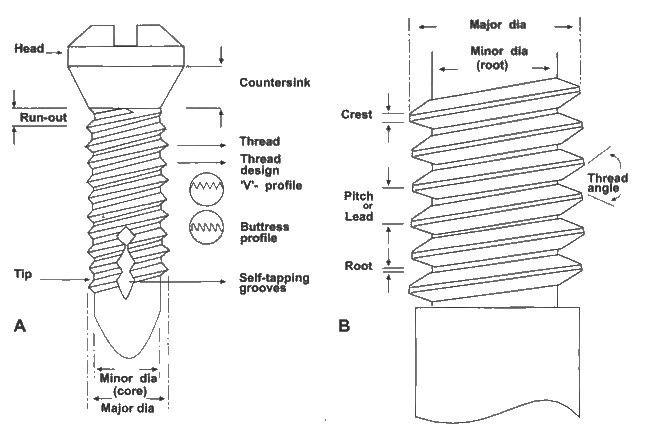 Screw Head
= attachment for screwdriver

Countersink = conical area under head

Hexagonal head recess design is most popular because:

it avoids slippage of screwdriver & thus head distortion

it allows for better directional control during screw insertion

the torque is spread between 6 points of contact
Screw Shaft
= smooth link betw. head & thread.

The 'Run out' is the transitional area between shaft & thread. This is the area screws break.
Screw Thread
The standard orthopaedic screw has a single thread (more threads increase the rate of advancement, but produces less compression for the same energy)

Core/root diameter = the narrowest diameter.

Outer/thread diameter = across the maximum thread width.

Pitch= the distance between adjacent threads.

Cortical screws have small pitch & cancellous screws have large pitch

The stronger the bone the smaller the pitch

Lead= the distance the screw advances with each turn.

The smaller the lead the greater the mechanical advantage of the screw.

Cortical screws have a smaller lead than cancellous screws

Pitch & lead = incline of a ramp. A barrel travels a shorter distance on a steeper incline before it gets to the top, but it is harder to push it up the ramp.

Thread design:

'V' profile - produces shear + compression forces

Buttress profile - produces compression forces only

shear forces promote bone resorption, reducing pullout strength.

Thread length:

Partially threaded screws are designed for lagging cancellous bone.

80% of the screw's grip is determined by the thread on the near cortex & 20% on the purchase at the far cortex.
Screw Tip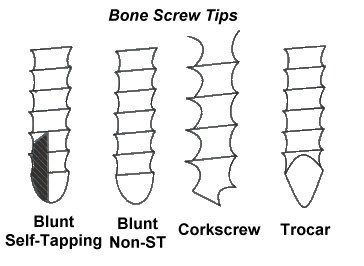 Blunt tip of self-tapping screw - cortical

fluted to act as a cutting edge & transport bone chips away.

the sharpness, number & geometry of flutes determines its effectiveness.

Blunt tip of non-self-tapping screw - cortical

the rounded tip allows for more accuracy & direction into a pre-tapped hole.

More 'effective torque' is obtained from pre-tapping -> increased interfragmentary compression.

Corkscrew tip - cancellous screw

Trocar tip -
This is a preview of the site content. To view the full text for this site, you need to log in.
If you are having problems logging in, please refer to the login help page.