Acetabular Component
Aim for restoration of normal orientation and centre of rotation of acetabulum.
The normal acetabulum is inclined from the transverse plane at an angle of about 55 degrees. This is somewhat more vertical than the optimal position for the prosthetic socket, which should be inclined about 45 degrees to maximize stability of the joint.
Cemented acetabular components
Despite improvements in component designs and cement technique, the long-term survivorship of cemented acetabular components has not substantially improved.
The polyethylene component must have external grooves of sufficient depth and width to interlock with the cement. In general, these grooves should be rectangular or dovetailed and profiled to ensure strong mechanical interlock.
Beveling the component at its mouth may allow better stability of the femoral head while avoiding impingement.
Flange improves cement compression and acts as mech barrier to migrating cement particles.
Opera cup has augmented post. Wall in attempt to reduce dislocation.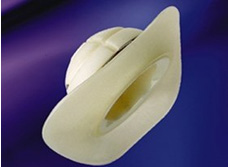 Charnley Ogee cup
This is a preview of the site content. To view the full text for this site, you need to log in.
If you are having problems logging in, please refer to the login help page.